The 'Live' experience

John is an experienced live performer, here in his own words, John takes you through his memories of the shows...
"Well, it all started in 1985 when we were invited to play at the...
UK Electronica '85 Festival, Sheffield University. 24th August 1985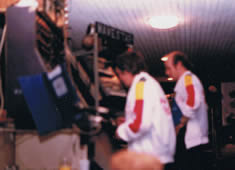 We had been contacted the year before by Jeanette and Denis Emsley of 'Inkeys' (cassette-based) magazine regarding our first 'Wavestar' cassette release 'Mind Journey' (1984); we were just too late to be invited to the 1984 event so were booked for the '85 one instead.
A new experience for most of us…and SO scary!! Shaun, having played in a rock band previously was a great help in suggesting how we approached it! A great event and we were mobbed….so the fans must have been impressed anyway!!! Plus, we sold loads of cassette albums…!!!
One guy who was with his girlfriend at the sales stand actually asked me to sign his jeans…!!! I thought he was taking the 'mickey'…but Dave W-H gave me a big thump and said 'sotto voce' …" he means it, you idiot!!" So I did with a felt-tip pen and off they went happy as Larry….what an experience!
Our next invitation came from Andy Garibaldi and the rest of the UKE team, I believe, to play at the
UKE, Gatehouse Theatre, Stafford. 1986 or 1987?
A brilliant event this...the lighting guys did us proud…all because we took the trouble to send them a tape of the proposed set we were to play…!! Someone said after the concert…'loved the eclipse'……well, we never saw it of course (no video to the best of my knowledge!) so how they did it I've no idea!!
There is some confusion amongst the ranks as to whether this event in 1986 was the 'Lotus Electronica' staged by Andy G and Lotus Records…but it is my belief (after all this time!) that their event was actually in 1987 (?) But hey… we played twice, that's great!! Oh well, put it down to age…and I'm sure some of the fans and organisers will correct me if I'm wrong…they usually did…all the time, especially that Andy G.!! JD)
Next up in 1987 was the...
AMP Festival, London. 8th August 1987
organised by Mark Jenkins and team from Amp Records (I believe in St.John's, Smith Square in London; quite near to Westminster if memory serves correctly).
Another great experience….not least of which was, whilst we were there, the Thames 'Boatmen' festival was happening, on the River Thames; with a huge firework display mounted on the river on the boats, in the early evening. We managed to catch most of it…it was awesome!
The next trip was to be something special too...
Wavestar: Electronica '88, Annecy, France. 24th July 1988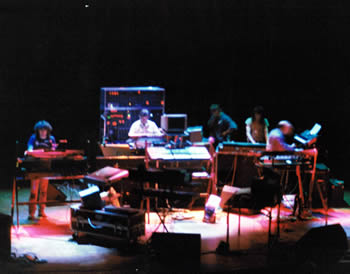 This was in theory going to be almost a 'son et lumiere' type of event we were led to believe, with some 'outdoor' concerts complete with lasers and suchlike. Unfortunately for Pascal there was a problem in that the powers that be in the airline industry would not give permission for the lasers to be used, presumably as the event was on an air route and would possibly affect the pilot's vision etc. This led to the offer of the PA being supplied being cancelled so led to some confusion and manic re-arrangements, but…

What a trip that was….20+ hours (!) from Sheffield (UK) in a Ford van with all the gear and apart from JD and DWH, there was Paul Ward too! We had to stack the gear along (most) of one side of the van/truck so leaving a small corridor, where we had a sleeping bag and a blow-up bed!! That was so that whoever was not driving could try and get some sleep. (Some chance, JD!!) How it didn't turn over I'll never know! Shaun and his brother Karl had travelled by train and ferry to Europe as there was no room in the van!! They nearly missed their train in Paris as they couldn't find Platform 14 (?); it turned out that the 'other' platforms were through a different part of the station!!! They just made it as the train was pulling out…eeek!
We met up at 0600 in Annecy and had coffee and croissants at the café near the station….lovely…and boy did we need it!!! (Another thing…Shaun woke up during the night whilst on the train and nearly died when he looked out of the window…they were in the mountains and passing a sheer drop of hundreds of feet..!! Ha.) But Annecy in July was fantastic…like the Riviera, but next to the Pyrenees (mountains)…we had a great time swimming in the (freshwater) lake Annecy!!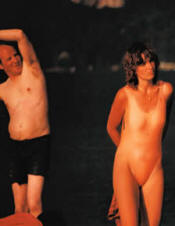 One funny point about that was that prior to going out there, we'd asked Dave what it'd be like (as he'd been out to France quite a lot as part of his 'athletics refereeing' he did at the time, mainly trampoline I believe). He told us that it was near the mountains and so might be cool there…..so we took sweaters and warm clothes…..it was 85 degrees in the shade….!!!!!! I think he'd forgotten it was July!!! Ha.
We were merciless after that; The picture on the left shows me in a pair of shorts (!) made from cutting the legs off a pair of old jeans, trying to look as 'cool' as the lovely French lady, who has no idea I'm there!) Why, you might ask? Well, the lake was so good and one of our guys had no shorts to go swimming, so I gave him mine, and chopped off the legs of the jeans so we could all go in the water!! My 'tailoring' skills need work I'm afraid……

During the next year there was to be no UKE for various reasons and Wavestar as a band had split up so our next gig was the first as 'John Dyson and Friends':
John Dyson and Friends: St George's Hall, Bradford. 21st October 1989
Surreal to Real organised a mini-festival in Bradford (UK) at the gorgeous venue of St. George's Hall in the City Centre. The staff and everyone made us very welcome and although the 'turnout' was lower then we expected all the artistes playing had a great time! There were quite a number of extremely comical events at this gig….but too many to mention here…apart from the fact that somehow about four or five of us ended up sleeping on baby mattresses on the floor of the place we were staying…..and as we were all falling asleep I became hysterical (with laughter)…"What the hell is the matter with you?" said one Andy Garibaldi (amongst other things!)..and I replied, "I just thought of all the fans thinking to themselves on their travels home"…."that John Dyson will be in his fancy hotel now all tucked up and comfortable in be, and here I am on the floor on a baby-mattress!"….we didn't get much sleep after that…..Ha!
Oh I forgot….we couldn't get into our room as that JD had 'lost' the key…so we had to wake up the owner even though it was really late etc etc….when we finally accessed our room guess what? The key fell out of JD's belongings onto the floor…..chaos reigned supreme that night!

After some discussions with a few of the original organisers of UKE, Surreal to Real decided to stage a combined UK Electronica event...
John Dyson and Friends: Octagon, Sheffield. 24th September 1990
This was to try and resurrect the festival once more. A brilliant venue in my then home town only spoiled by it being a Bank Holiday weekend and a train strike occurring…which hit our audience somewhat…oh well!! Now, was that the gig where that Mark Shreeve-person…who was 'starring' came off his motor bike just before the weekend of the concert and croaked his leg…and so appeared in a plaster-cast…on stage…?!!! The show must go on! Hey, the joys of organising a festival…gee-whizz! All in all, it was a great time and Mark survived and did a blistering set….!!
At this event if memory is correct we had an appearance of one Ron Boots and friends too, from the Netherlands….meeting Ron is something you don't forget in a hurry! We howled with laughter when he and his friends came back from a visit to Sheffield City centre, clutching a bag from a very well-known UK Pharmacy store. 'Boots' (the Chemist)….he thought his fame had spread to the UK already….we soon put him right on that one!
Our very first invitation to play in Europe was to the prestigious Klemdag festival in the Netherlands
John Dyson and Friends: Klemdag NL. 3rd November 1990
Organised by Hr.Frits Couenberg and his team from Klem magazine, a still-missed fan magazine! I think this one was in Breda ('Turfschip' theatre) where we received a fantastic welcome…!! Absolutely fantastic reception to the music and all involved in the festival were so kind and helpful…a terrific day (well, weekend!).
Later that year we were invited by Dave Roberts to play at his 'Synthtasia' Festival...
John Dyson and Friends: Central Hall, Liverpool. 14th September 1991
…..we had a ball and were well received…but the area where we left the van etc left a lot to be desired…someone was thrown, or fell out of, a pub we were walking past, with a smashing of glass(es) etc….Jeez! I never stopped worrying about the van and gear until we were on our way home!! But we survived and all made us very welcome…phew!! Nice one, Dave!

Our second invitation from the kind folks at Klem (Frits Couenberg and co.) led to...
John Dyson and Friends: Klemdag Breda, NL. 21st September 1991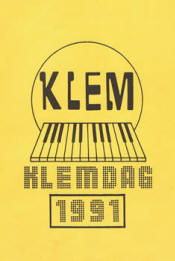 A fantastic time was had by all at this event and one abiding memory is of having to pick up the albums from the plant in the UK on route to the ferry!! Oh dear! The plans of mice and men; also, most of us including the girls packing them into CD cases whilst sailing across the North Sea! We were headlining this gig so we were worrying all the time about the performance but the reaction from the fans was something else..!! A great time….and such lovely people from all over Europe coming to see us!

During this period, our music had become noticed by Ashley Franklin whose programme on BBC Radio Derby was one of the very few to be airing in the UK at that time (nice one Ashley!) and he was kind enough to organise a concert for us in Derby.
John Dyson and Friends: BBC Radio Derby, Guildhall, Derby. 31st May 1991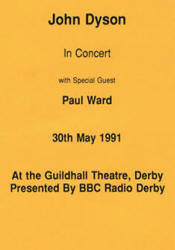 The concert was one of our best performances and we were relieved that we had done Ashley proud for his kindness. The fans loved it and Ashley in closing, was good enough to say that it had been one of the best music nights in Derby for some time!! The only thing we didn't like about the venue was all the stairs we had to climb to get the gear in….!!

Well what can I say? The folks at Klem were so impressed with us the previous year that we were invited back for an unprecedented third time and as headline act once more!
John Dyson and Friends: Klemdag Breda, NL. 31st October 1992
I think I'm right in saying that this trip was when we took two coach-loads of fans with us to the Netherlands (along with all the gear, stowed in the under-belly of the coach!! An absolutely unforgettable experience once more and all had a great time! The only thing was that, unbeknown to me, Ant had organised with the driver(s) of the coaches to show the movie 'Terminator 2 (?)' on the on-board video machines; there is a point in the movie where one of the main characters actually says (and Ant had them turn up the volume!) "We gotta kill Dyson"…..huh. Screams of hysterical laughter all up and down the coach…..oh well, I can take it…!!!
I think that this was the year we also did the 'lazy harp' act, which was a pastiche of JMJ, with JD using a row of candles and oven-gloves (don't forget the protective sunglasses!), instead of a laser! The audience laughed and laughed…one lady started singing 'Happy Birthday' when the candles came on….lovely!!! I nearly forgot…the same lady (very concerned) enquired after the concert if my hands were ok (I'd held one gloved hand over a candle for the sustained note…!) she thought I'd burned them…aaaahhhh! Nice.
We didn't get all the gear and stock back on the coach until about 0130 or later and I was nearing complete exhaustion, but John, one of the brilliant drivers, found some brandy (cognac) took me to one side and made me have a big dose; it certainly revived me enough to get back to the hotel so I'm sure he saved my life that night…cheers mate!! I owe you…I won't forget that.

After the formation of the organisation EMMA (for fans, musicians and organisers of Electronic Music) a festival was held in Derby once more this time at the larger Assembly Rooms venue.
John Dyson and Friends: EMMA 1 Festival Assembly Rooms, Derby. 12th March 1994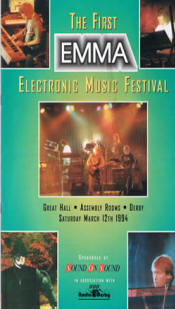 We were asked to headline the day-time part of the event and we had a brilliant time, seeing some old faces and many new friends. We even did a 'shoot-out' during the track 'Rio Grande'…which went down extremely well and I believe we repeated the 'lazy harp' pastiche which went down so well in the Netherlands!! A great venue too, if I remember correctly…we drew up the van to an outside door…loaded out the gear onto a 'platform'….which turned out to be a lift (elevator) taking us directly to the stage….Heaven!!!

Hr. Winfrid Trenkler of 'Schwingungen' radio programme fame (Cologne/Koln Germany) organised each year a 'trip' for EM fans to various destinations and this year he invited us to perform on the Island of Valo in Sweden...
John Dyson and Friends: Eurosonic, Island of Valo, Sweden. 1st June 1998
I think it was the first time that Shaun had been in an airplane so along with that it was a brilliant experience once more! We couldn't understand why we couldn't locate the hotel in Gothenberg (Goteborg) when we arrived…..it turned out we walked past it twice…it was a boat!!!! Well, a ship…in the harbour! We were looking to the landward side of course….d'oh!!! It was lovely! The Island had a bandstand on it which was approached by a wooden walkway….and that was where we played! Fantastic! We were looked after so well and it is a great memory we look back on to this day. Thanks to all for our lovely first foray into 'lands unknown'…!!
The brilliant guys at Groove Unlimited (Ron Boots and Kees Aerts) invited us once more to the Netherlands after they had taken over the reins from Frits at Klem.
John Dyson and Friends: E-Live, Nijmegen NL. 17th October 1998
We were looking forward to meeting up once more with all our fans and friends over in Europe and I have to say what a fabulous time we had! There was just the one thing that worried us…..Sir Paul McCartney (and Co.) turned up to see us…..boy, what do you do? That was scary….we were all sort of beside ourselves, and knowing Ron and Kees as I do, we didn't believe them when they told us Sir Paul wanted to speak with me/us and he was at the back of the stage! (This was whilst we were moving our gear 'up' to the front of the stage during the evening break in the concerts).
I shouted at Ron not believing him that were too busy to start messing around etc etc (with a few expletives thrown in I suspect!)…eventually Ron and Kees came over together and physically lifted me off my feet and took me to the rear of the stage (they're BIG guys over there!) To my astonishment, there was Sir Paul and his entourage…we all gaped open-mouthed for a few seconds and then I found my voice!! He asked if anything was 'wrong' and 'had anything broken', as he'd heard me shouting at Ron…oooops!! So I explained and we all had a good laugh at it! It turned out even funnier after the gig actually….when his people contacted Ron and Kees to make arrangements for them to come to the gig (secretly)…Ron and Kees thought it was ME winding THEM up…Brilliant!
Suffice it to say that he was really kind to us and is an extremely nice man. We sent him some albums down and he replied with a lovely letter saying how much he'd enjoyed seeing us and the hearing the music. I believe there is a copy of his very kind letter on the site somewhere…but he still hasn't popped in for a cup of tea! Hey Sir P…did you get the 'Darklight' album…you possibly forget how to write..? (!!!!) :O)
After the hugely successful E-Live concert, we decided, with the very kind sponsorship help of the company I was working for at the time (F.E.Mottram Ltd), to replay the concert in Sheffield.
John Dyson and Friends: Sheffield City Hall. 5th December 1998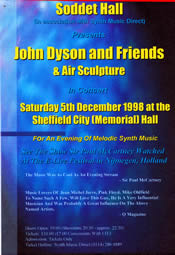 It was a great gig but unfortunately the attendance was lower than expected. This in my opinion was simply due to the fact that we cannot get airplay here in the UK for most of the time (or at least at that time…it is slightly different now with the internet and podcasts etc). But the event was very good and it was very nice and pleasant surprise to meet up once more with David Ward-Hunt! We dedicated the track 'Moonwind' to him there and I acknowledged his part in the song's composition etc. Unfortunately this was to be the last time I saw him…a sad memory.

I had a long break from playing live during this intervening period mainly due to personal circumstances etc which I think you can read about on the biography pages. Andy Garibaldi one of the original organisers of the UK Electronica Festivals asked me if I'd be prepared to perform once more (in Dundee, Scotland)...
John Dyson and Friends: The Doghouse, Dundee, Scotland. 18th August 2008
This particular year was the 25th anniversary of the very first setting up of UKE in 1983. I couldn't really refuse and checked with my guys and they were really up for it! They came up a couple of days early to my house here in Tarbert and we set up and rehearsed in the garage under the house (!!) So much for the 'superstar' bit…Ha! Actually, we had much more space where I used to live in Derbyshire and in the house too! But hey, you do what you have to! It surprised us in a way that after a couple of run-throughs it was if we'd never been away!! You can read how the gig went on other parts of the site I believe, but apart from a few problems we enjoyed it immensely and it took us all back a few years!

Following on from our very nice reception at the Dundee event, Ron and Kees were kind enough to invite us to their E-Live festival in the Netherlands once more, realising that I'd not gone away entirely!!
John Dyson and Friends: E-Day Oirschot, NL. 11th April 2009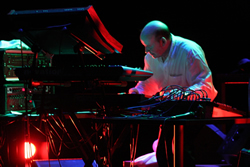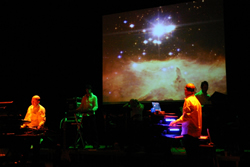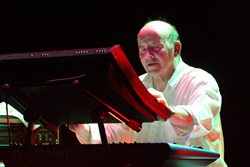 It was a bit of nightmare trying to organise the completion of the album ('Darklight') and the logistics of preparing and travel for the event; the guys were still of course, down in Sheffield, Stephan was in Eire (Ireland)!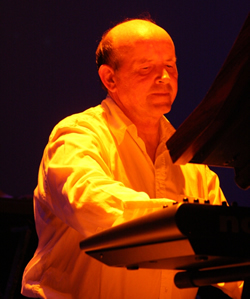 To organise the rehearsals for real, I had a word with my sister Sylvia who uses a 'community centre' at Grenoside (a village in north Sheffield) and arranged with them for us to rehearse for one (short!) evening prior to leaving for Europe! (Thanks everybody!) But we did it and to say that we had one of the best times ever, after all these years, is a sincere compliment to both my friends and to Ron and Kees and all at Groove Unlimited for their organisational skills.
The Theatre staff and sound engineers and lighting team were all so very kind and we send them all our grateful thanks and also to everyone who helped us there. Most opinions seem to be that it was the 'best' ever gig for us, well we certainly had a great time….so I can say no more!! Excellent!
The guys and girls just wanted to get the gear back in the bus and carry on to the next gig…."where next? they all were shouting…let's do it all again!" My God…they'd have me in my grave…..but…..shall we do it again? Yeah, c'mon then!….."
Love JD xxx
Watch footage of John's time at E-Day on the Videos page