News archive
10 May 2015 - Electric Circus
More John Dyson live in 2015 - see details below: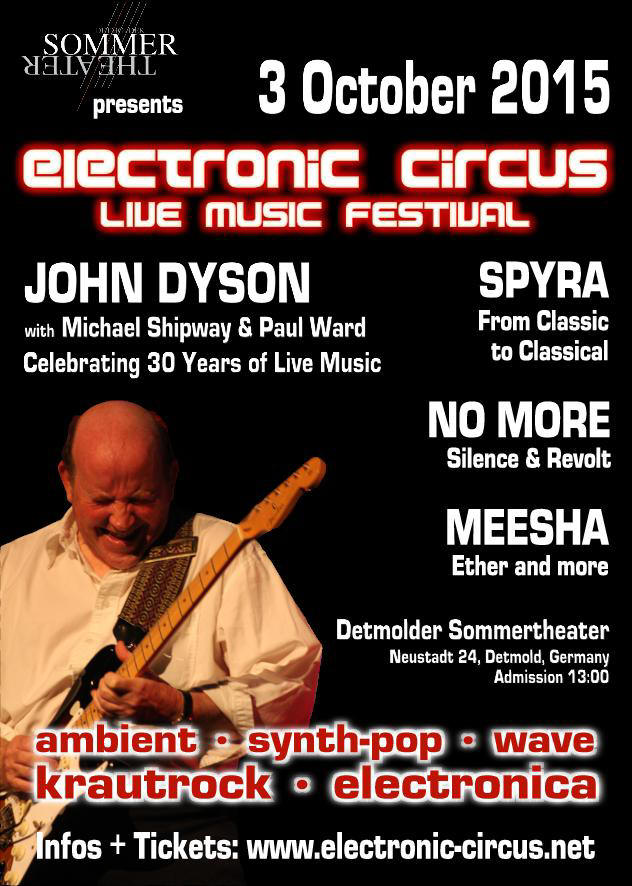 24 Dec 2014 - John Dyson to play E-Scape 2015
John will be playing live next year!
The E-Scape Electronic Music Festival on Saturday 30 May 2015 at The Cut in Suffolk is the venue and full details on times, getting tickets and the other artists on the bill are on the flyer below: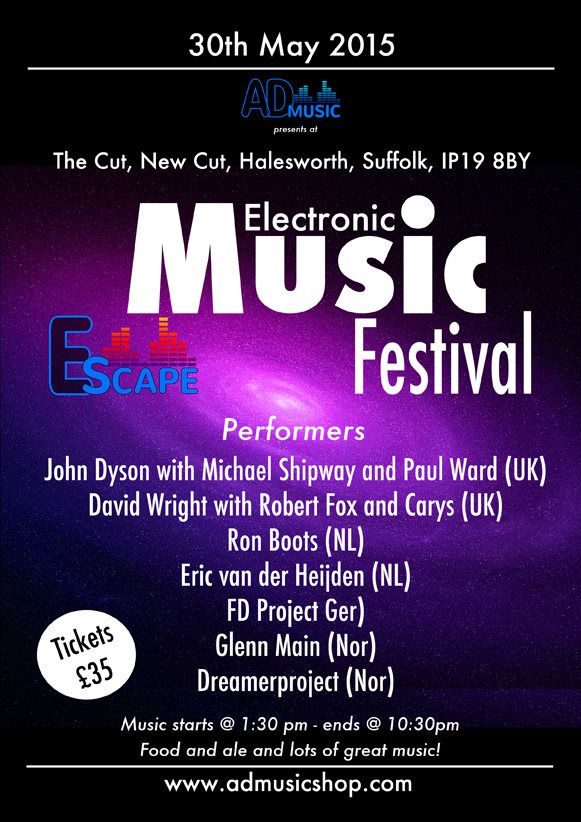 30 Jul 2014 - Moonwind CD
Sadly, the physical stocks of the Moonwind CD have now run dry and the album is now only available as a download from specialist stores.
Download available via MusicZeit
In more positive news, I hear that John has started composing new music again. Who knows where it will end?
Hopefully, more information will surface by the end of the year!
30 Aug 2013 - Postal charges
Sorry to be the bearer of bad tidings but the Royal Mail has slowly been increasing their charges, which means that reluctantly we must also do the same for physical CDs shipped from the website Store.
Of course, we have tried to keep them as reasonable as possible. There is a tiered pricing structure making simple economic sense...the more you buy, the cheaper they become per unit!
Again, apologies that this has had to happen but I hope you'll agree that CDs purchased directly from this site are still good value...and of course, signed copies by the man himself are easy to obtain!!
29 Aug 2013 - Brand new interview with John
One World Music, part of the One World Radio Organisation bring you Atmospheres with Bruce Gall. This week Bruce brings you an exciting and mammoth show, featuring John Dyson in an epic 3 hour interview, with music from John's solo work as well as from Wavestar and includes two new exclusive in progress pieces.
Atmospheres with Bruce Gall feat. John Dyson by One World Music on Mixcloud
19 Aug 2013 - Aquarelle
Unfortunately 'Aquarelle' is now out of physical stock from this site but is available for download from MusicZeit in either MP3 or FLAC formats or from Planet Origo. Planet Origo are also, at time of writing, also advertising physical copies.
The tracklist, song samples and a few notes about the album are viewable on the 'Aquarelle' page on this site.
26 Mar 2013 - Update on John
John is now back home from hospital and feeling really quite good under the circumstances; and the medical reports are very good. There is no serious damage to the heart apparently and he has been told that all should be well as long as he is "sensible" for this coming period.
He asks that we tell you all, that he is most grateful for all the kind wishes and support from around the world and also for the superb medical treatment and kindness shown at Torquay Hospital Cardiac Unit and the Ambulance crew who attended him in the first instance. All things considered, he believes that he is fact actually a very fortunate man.
We will, of course, keep you informed of his progress.
23 Mar 2013 - John suffers heart attack
News has just reached me from John that he is currently in Torquay Hospital after suffering a heart attack. He is hoping that all being well, he will be discharged in 2-3 days. I'm sure you will join me in wishing him well and a full and speedy recovery.
01 Feb 2013 - Settling in and a note about CDs sold from this site
John is settling in very well into the new premises in Devon and is working on a new 'system' for the studio, so a big wiring job will be due any time! So, just for now, there is no new 'music' until things have been installed and are working alright!
An important note from SH Music:
Recently we had a (sort of) 'complaint' from a customer that the 'Moonwind' CD they ordered was not 'sealed' (factory-sealed); we had explained this an e-mail and we also explained that this was simply because our 'remaining' stock of that album, in terms of physical CDs, were returned to us from our colleagues in the Netherlands and they were 'removed' from their wrapping and crystal cases for shipping back to us to save an enormous amount on shipping/postage costs. They were safely shipped in plastic sleeves etc and of course, are ALL 'new' albums'.
WE DO NOT sell 'used' CD albums. Please understand this, if you are thinking of purchasing any album that was (in this case) returned to us from other stock.
We DO have 'some' of John's titles which are still 'factory-sealed', but not all are. But, I repeat...ALL CD albums are 'new' albums and are shipped in a crystal case, with the appropriate covers etc. to you. Oh, and in some cases of course, certain customers will ask for a 'signed' copy by John; well of course, the album 'has' to be removed from the 'wrapping' so John can sign it!!!
The 'Aquarelle' physical CD album is now out of stock, please visit the MusicZeit website for download, should you wish to.
There are only limited quantities of the physical CD albums of 'Moonwind' and 'Zenith'.
Finally all our belated best wishes to you all for 2013 and we hope to meet up with some of you at some time during the year. Thank you for the continued, greatly appreciated, support.
22 Nov 2012 - John has moved back to England
For those that don't follow John via his Facebook page, it is time to update you!
John has moved from the Loch Fyne area of Argyll, Scotland down to the beautiful county of Devon, England and in to the seaside town of Paignton.
No doubt he still has lots of unpacking to do and maybe even a spot of decorating (!!) but hopefully we will get a longer update from him soon.
For now though, he has asked me to let you know that he's doing well and is excited about the next chapter in his life...if only he could find his kettle!
30 Sep 2012 - News from John
We will be moving from our base here in Scotland on October 3rd and hope to be able to complete any orders which you may have; it may take a little longer to organise as John will be moving to stay with friends in Sheffield for the time being as no decision has been made at this time, as to 'where' our new base will be.
We will let you know of course as soon as any final plans are in place. Thank you for your continued support and patience.
Also, one of our fans has put up some old performances of JD and Wavestar on his YouTube channel (see link below) and although John was going to 'edit' and 'clean up' these videos, the time constraints of the 'move' has meant that he couldn't get to them right away.
So, if you like the music etc. please visit the channel and enjoy a 'blast from the past'...:O)
Regards from all at SH Music.
http://www.youtube.com/user/LeeBakerLegion/videos?query=dyson
14 May 2012 - Shop closed until 05 June 2012
12 May 2012 - Message from John
Things are still in state of 'flux' re moving house etc and the 'office' computer finally giving up the ghost (!) but we have back-up (!) the only thing is that we are low on 'physical' stock of the Aquarelle album; we are thinking of trying to get a small run done of this and other albums that are out of stock (as we still get asked for them), if possible for them to be duplicated, as all the artwork is not now available. It may be possible in these economic conditions, we will check on the costs; but if all else fails there is the download option from MZ.
Thanks for your continued support.
18 January 2012 - Store orders
John has asked me to advise visitors to the site that orders from the Store placed between 20 January and 03 February 2012 will be processed from 04 February onwards.
15 October 2011 - Update re. Jack
"All went well..Jack is now at rest. We are having a bereavement break from 16 October to 5 November in memory of Jack and will deal with any orders/business on our return. Thank you all for your kind messages of support, it is greatly appreciated...JD and Co."
09 October 2011 - Sad news from John
"I am so sorry to have to tell you that my beloved Jack passed away peacefully, and comfortably, in his own bed at home at 0220 on Saturday 08 October. He was in no discomfort or distress; thanks to the ministrations of the District Nursing staff and Marie Curie nurses, all of whom, along with our local medical and support team have been absolutely beyond first class in the help given to us over this sad period.
Much love to everyone out there who has also given their support, love and best wishes during what has been a very difficult time.
All business transactions are on hold until 12 October. I am sure you will understand."
John xxx
20 August 2011 - MusicZeit latest
If the physical CDs John offers via this site's Store are not your thing and you would prefer MP3 or FLAC downloads, then MusicZeit is the place to check out.
Here are direct links to downloads that they offer that feature John:
Following on from the news on 10 August (see below) that MusicZeit were having server problems, John is pleased to announce that all is now well again.
10 August 2011 - MusicZeit and general update
The MusicZeit download facility has suffered a recent server problem and there is a requirement to re-upload some of the albums to the site. John says that "This will be done as soon as they give us the 'word' that all is now fixed regarding their server system. Apologies for any inconvenience this may have caused but it was out of our hands, of course."
John is continuing to work on some more music ideas in between caring for Jack and informs us, that he hasn't disappeared!
John adds: "Thank you all once again for the good wishes with regard to Jack; he is about the same at this time. We see his specialist tomorrow (11 August), but quite what they can do, or will suggest, we have to wait and see."
05 May 2011 - Update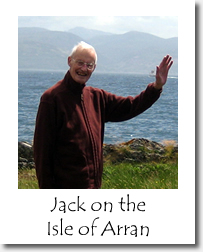 "Many of you have kindly asked 'when there will be some new music from John?'.
Unfortunately at this time (and especially during the past three months) his partner Jack, who played piano on 'Darklight', has been very seriously ill and is not making the progress everyone expected.
John's music 'projects' are therefore on-hold for the time being, as he is caring for Jack constantly.
Please keep checking here for further news. John sends his own, and Jack's grateful thanks for all the kind wishes being sent to them both. Jack is especially impressed by all the concern being shown to him from all over the world.
12 April 2011 - Digital downloads
ALL the albums are now available to download from MusicZeit. Music samples from the albums are also available on the respective MusicZeit pages:
19 February 2011 - Videos updated
Time Node from Wavestar UKE 85 has been added to the JD Videos page.
04 February 2011 - New Scientist features Wavestar
Please do hop over to New Scientist's YouTube channel to hear the beginning section of Wavestar's track 'Whales' from Moonwind featured on the Zoom into the Orion Nebula video.
19 January 2011 - Store prices slashed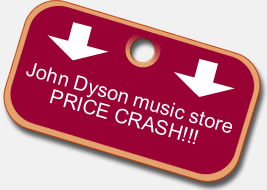 Thought that everything was going up in price in 2011? Then think again...John Dyson's Music Store has just experienced a PRICE CRASH!!!
Not only that - but John is sticking to his original Store offer: there is a 5% discount for 2 to 4 CDs purchased in one order and a 10% discount for 5+ CDs purchased in one order!
Has he gone completely crazy? Erm, don't answer that!
Where physical CDs are no longer available, links are provided to websites that offer music downloads.
Payment is by PayPal
CDs signed by John are available
Physical albums (signed or unsigned) are genuine original CDs, not CD-Rs
All CD prices include free shipping worldwide
10 January 2011 - Moonwind album info
There seems to have been a slight confusion re the 'Moonwind' (Wavestar) album; John would just like to point out that the 'Moonwind-Definitve Edition' is for download only from MusicZeit and that this is composed of the original CD tracks (with the slightly longer version of 'Chase the Evening'), plus the two 'bonus' tracks making a total of 9 tracks.
The 'original' (7-track) physical CD is the one advertised on the site Store page and is still available.
13 December 2010 - Moonwind Definitive Edition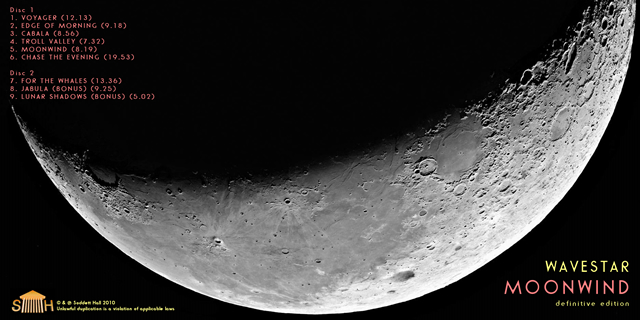 A message from John:
The 'Definitive Edition' of Wavestar's classic 'Moonwind' album is now available for download from the MusicZeit website in both FLAC and MP3 formats.
The album has two re-discovered tracks and new artwork by Graham G, also the 'full' version of the song 'Chase the Evening' at some 19+ minutes!
Moonwind - Definitive Edition tracklist
Disc One
1. Voyager (12 mins 13 secs)
2. Edge Of The Morning (9 mins 18 secs)
3. Cabala (8 mins 35 secs)
4. Troll Valley (7 mins 32 secs)
5. Moonwind (8 mins 19 secs)
6. Chase The Evening (19 mins 53 secs)
Disc Two
7. For The Whales (13 mins 36 secs)
8. Jabula - Bonus Track (9 mins 25 secs)
9. Lunar Shadows - Bonus Track (5 mins 02 secs)
The entire back-catalogue of Wavestar and John Dyson albums are now all available for download too from MusicZeit.
Please accept our very best wishes to you all for the coming season and for 2011. Thank you for your support, always appreciated, John D and all at Soddett Hall Music. xxx
19 November 2010 - YouTube channel update
John's YouTube channel receives mega video update!! Featuring lots of footage from 2009's E-Day event.
John says: "The videos were shot by Debs, Rae and Charlie (the 'KIK' girls!) on only a 'home movie' camera which was in the centre of the audience, but, since quite a few folk have asked and have been asking (!) if there is 'any' video of our performance...here we are!
The 'digital' recording of the sound didn't happen as the hard-drive on which it was being recorded by Groove went down and the files were not recoverable, so the sound is only from the camera itself…oh well…such is life.especially if you're me!!
Hope you find something to enjoy, as we did whilst there - thanks to all at Groove Unlimited NL.
Love JD and Crew xx"
You can see all the new uploads here on the site video page or if you wish to leave a comment for John and have a YouTube account, watch them instead on the John Dyson Music video channel.
10 August 2010 - Darklight download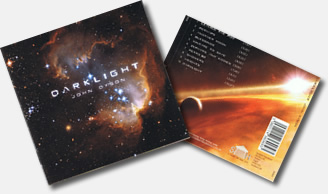 Now available for download via the Musiczeit site is John's Darklight album, learn more about the album and listen to sound samples or go purchase the download.
24 July 2010 - AD Music
Sorry to inform you guys that AD Music unfortunately had to cancel the proposed concert we were to appear in next year in Derby (UK). Please see the links to AD Music site for details and also to the EM Portal site where you will find comments (as always) from fans etc.
Thank you as always for your support….always appreciated here. We'll maybe catch you at another festival in the not too distant future, we hope! JD xx
12 May 2010
John Dyson and Friends will be appearing at the AD Music Festival (AD2011) in Derby on Saturday 28 May 2011 at the invitation of David Wright of AD Music.
The full line-up and time due on stage:
14:00 Air Sculpture
15:15 John Dyson and Friends
19:30 Callisto
20:15 Code Indigo
This event is now unfortunately cancelled.
30 March 2010
Check out John's YouTube Channel for two new uploads. Darklight, split into two parts (to comply with YouTube's duration upload limit) with stunning graphics by Flixx Walker as used at the E-Day event last year in the Netherlands. You can also see the clips on John's videos page.
28 February 2010
You can now see a couple of shots of John's current studio set-up on the revamped Scrapbook page.
16 February 2010
Sound samples from Wavestar Live at UKE 1985 have now been uploaded, complete with link for download purchase.
09 February 2010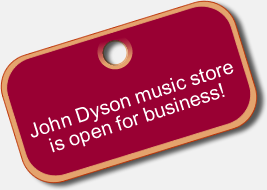 A large selection of CDs by John and also Wavestar are now available to purchase online through the website. Payment can be made via PayPal, there is a discount facility for multiple CDs in one order and CDs signed by John are available too!
Where physical CDs are no longer available, links are provided to websites that offer music downloads.
Show me the store, I want to go shopping!
29 November 2009
Yes, folks...he's an online entity at last! Welcome to John Dyson's official website. Thanks to everyone who has asked to be notified of launch day, emails should be on their way shortly. There are plenty more things on the site that are still to come, not least the store and listening 'pod' but it feels good just to be able to say "All Some Systems Go!"
Eventually, you will not only be able to hear samples of John's music and also purchase CDs but see John's career scrapbook unfold online.
The website is an ongoing project, so please be sure to check back from time-to-time as more content is added and of course, you can always sign-up by email for notification of when John's Latest News page is updated.
31 October 2009
John has been asked to provide a 'Christmas' track (or two) for the Stefan Schulze podcast project and also there may be a special track for Koos at the EM Portal site jukebox, as a personal thank you. It will be either an experimental JD track from the past, or a 'live' performance from himself or Wavestar….but, as the Star Trek computer used to say, he is…"working"!!!
JD has also been trying to 'clean up' his computer system, as they're getting pretty ancient now so to speak (like me…JD!!) and replacements need to be investigated!!! Buy an album!"
JD is doing an interview via phone on the 31st October on the Hawke Chill Out Sessions show.
28 September 2009
Check out this YouTube clip ESOcast 10: GigaGalaxy Zoom: The Sky, from the Eye to the Telescope featuring John Dyson's Darklight.
14 May 2009 - Live radio interview
John will be doing a live interview with Terry Hawke on the Hawke Chill Out Sessions program on Saturday the 16th about 2200 hrs UK time.
Links to listen in:
04 May 2009 - Leaving the Pod-cast!
The Hubble Space telescope mob (ESO)…received their promo copies of the album and want to use it on their podcasts as they are 'quote "very excited" by it and the way it turned out!!
26 April 2009 - Pictures from Music Circus
Some fab pix from 11 April that Stephan took at E-Day in Oirschot, the Netherlands. John says "we all had a ball…."